Primowireless, Winner Of The Best Rural Service Provider at The 2018 Broadband Compare TUANZ Awards.
PrimoWireless voted Best Rural Service Provider at the 2018 Broadband Compare TUANZ awards 2018.
Judges' Comments
PrimoWireless showcased technology and innovation as the fundamental underpinnings of their service and as a rural specialist their entry also demonstrated a great investment in their community.
Their extensive sponsorship of community organisations and groups, through free use of their services, and free WIFI hotspots throughout the region were great examples of their commitment to a high-quality rural broadband offering and to being more than 'just' an ISP.
PrimoWireless' Comments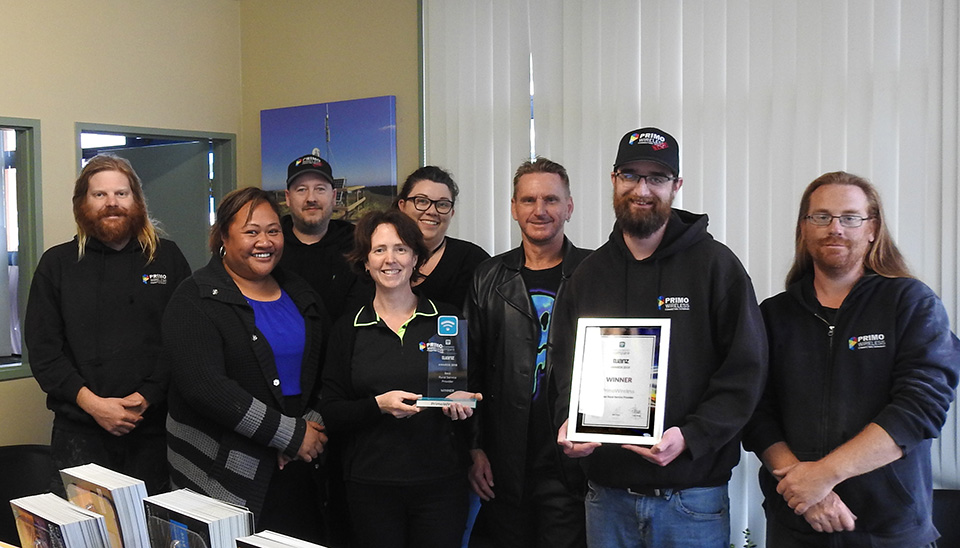 We are incredibly grateful for the recognition this award represents. It is an acknowledgement of not only the work PrimoWireless has achieved in getting fast reliable broadband to even the remotest parts of our region but also of the contribution that WISPS and ISP's are making in providing quality broadband to ALL New Zealanders.
PrimoWireless is also grateful for the recognition of the support we provide to community organisations throughout Taranaki, such as our PRIMO IT FORWARD sponsorship programme to give three families in need, free internet for a year.
We would like to sincerely thank the people of Taranaki, and the amazing team at Primo for helping us reach a stage where we can proudly hold up this award as a mark of our achievements so far. We also promise that we'll only get better at what we do.
The Broadband Compare TUANZ Awards
The Broadband Compare TUANZ Awards celebrates the very best of the broadband industry and this prestigious event recognises the companies that provide New Zealanders with the very best products and services in the broadband sector.
Awards cover a wide range of different categories from best fibre provider to best bundled plan, best customer support, best specialist provider and best broadband innovation.
The Broadband Compare TUANZ Award winners are selected based on a combination of criteria.
These include consumer surveys and reviews on the Broadband Compare website, decisions from the expert judging panel, as well as third party data and infomation collated throughout the previous year. Broadband Compare surveys 100s of household decision-makers through respected insight agency Tactix to provide additional consumer data to help the judges to decide, amongst other categories, the best providers for value, customer service and bundled broadband plans.
---